Together with their family, Apollo and Innocent live in Ndegeya, a very poor community north of Masaka. The people in this community live off the land and very often the crops fail because of draught. There are many single parents in the community with five or six children each. The families have no money to pay for tuition and quite a few people have aids or are HIV infected.
Apollo and Innocent feel privileged because the Joanne Foundation pays them a small fee for the work they do for the foundation. That is why they want to share with their community.
Apollo has a water tap installed in his backyard and he allows his neighbours to regularly fill their jerry cans with "city water".
When Apollo's garden yields a good crop he shares the beans, corn and bananas with the people who need it the most.
The children who visit the Library and Reading Club are from poor families and Innocent often prepares a meal for them.
This is the reason why Apollo started a small project called Star Project. The aim of this project is to support the needy families in this community. The project concentrates on direct help where it is needed the most and which enables the people to support themselves.
The Star Project has already done a few activities.
An old, childless woman living alone depends on her foster daughter. The foster daughter Irene is a single mother of three young children with no income. The old woman can't walk anymore and at night she sleeps on a thin mattress. Her wish is to own a good mattress, a blanket and a sheet. The Star Project provided these materials for her. The old woman was so happy.
Irene, the foster daughter, is a spirited, 27 year old woman who wants to do anything to be able to take care of her children. The Star Project wants to help her and with the help of the Joanne Foundation, the Star Project bought a knitting machine for Irene. People in Uganda very quickly wear thick sweaters when the temperature drops a few degrees so we are certain that Irene will be able to sell her homemade sweaters.
Two women start a craftshop.
 The Starproject tries to support the people of Ndegeya. Together with community members Apollo tries to find people in the community  who have talents they can use to enable them to make a living.
Apollo met two women who are very creative and thanks to a starting capital given by the Starproject they were able to buy material and open a shop  where they can sell their home made arts and crafts.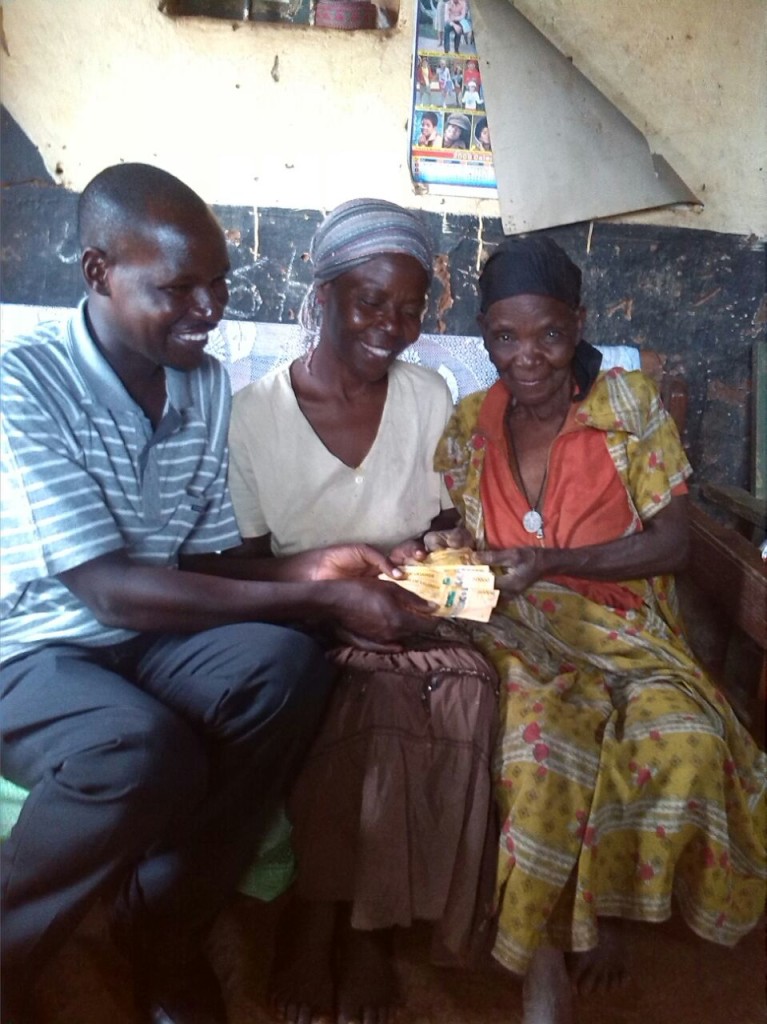 Bedding for a poor, old lady
 In the village called Ndegeya lives Cecilia, an old lady in a shack. There is nobody to look after her, her husband has passed away and she has no children. Now and then someone from the community gives her some rice. This woman sleeps on a wicker mat.
Apollo bought a mattrass, blankets and sheets for this old lady. Not only did Apollo and his wife Innocent buy the bedding, but they also decided to do her laundry, wash her pots and pans and collect wood and water for her twice a week.