Voor het kunnen financieren van onze activiteiten zijn we volledig afhankelijk van giften en donaties. Verder worden er regelmatig acties georganiseerd om geld in te zamelen.
Hieronder een aantal voorbeelden:
VMBO Schaersvoorde Aalten- speculaasactie 2017
Het is inmiddels al een mooie traditie: in oktober heeft bakker Kuipers uit Winterswijk weer een aantal leerlingen van VMBO-Schaersvoorde Aalten uitgenodigd om veel lekkere speculaasjes te komen bakken. Deze speculaasjes werden door de leerlingen van Schaersvoorde op de donderdagse weekmarkt verkocht en de gehele opbrengst was bestemd voor het werk van de Joanne Foundation, omdat Bakker Kuipers ook alle grondstoffen gesponsord heeft.
Dit jaar zijn Isa Wolsink, Emma Honders en Lisa Mateman van VMBO Schaersvoorde Aalten een hele zaterdag in de herfstvakantie in touw geweest om onder toeziend oog van Bakker Kuipers en zijn vrouw,  5500 speculaasjes te bakken. En een paar weken later stonden deze drie dames op een koude donderdagmorgen op de markt in Aalten om deze speculaasjes te verkopen.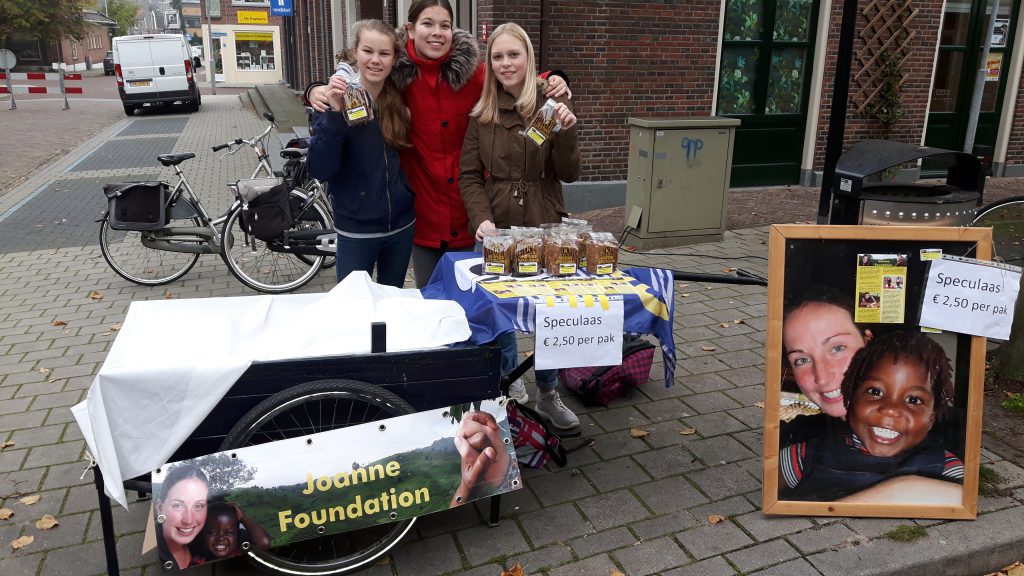 Bakker Kuipers, Isa, Lisa en Emma (en alle andere leerlingen die op donderdagmorgen op de markt stonden) heel veel dank voor jullie inzet tijdens deze mooie actie!
De PeGeWe fietsvierdaagse
Ondanks het matige weer hebben veel mensen eind juli 2017 mee gefietst met de door de PeGeWe (Protestante Gemeente Winterswijk)  georganiseerde fietsvierdaagse. De opbrengst was bestemd voor drie goede doelen en de Joanne Foundation was één van deze doelen. Op 6 september j.l. kregen we een cheque overhandigd van € 2200
Dit geld hebben we bestemd aan de bouw van een watertank en een varkensstal voor Jovia. Gelukkig waren alle werkzaamheden afgerond voordat het regenseizoen begon, zodat Jovia en de mensen in haar dorpje de komende tijd over schoon (regen-) water kunnen beschikken.
Een stukje in Aaltens Nieuws over de opbrengst van de GUV business run
'Nu kunnen zeker zes kansarme kinderen naar school'
Door Karin Stronks
AALTEN – Arent en Helma Noordink van de stichting Joanne Foundation kregen een fijne verrassing te verwerken op het AVA complex. Dat een deel van de opbrengst van de GUV businessrun naar Joanne Foundation zou gaan wisten zij. Dat GUV het bedrag nog eens fors naar boven zou afronden wisten ze niet, ook niet dat AVA een doos vol hardloopshirts en sportschoenen zou schenken. Op de ietwat schemerige dinsdagavond stonden zes blije mensen te applaudisseren voor deze gulle giften. Helma glimlacht: "Voor dit bedrag kunnen zeker zes kansarme kinderen een jaar naar school, geweldig!"
De GUV businessrun was dit jaar voor de derde keer onderdeel van de Gerard Tebroke Memorialloop (GTM), die eind mei in het Aaltense centrum werd gehouden. Bedrijven konden teams van minimaal drie en maximaal vijf collega's inschrijven voor een bedrag van 100,- euro. GUV vond dit een mooi initiatief en wierp zich op als hoofdsponsor van de GTM businessrun. GUV directeur Bert van Asselt geeft aan: "Wij hadden meteen een goed gevoel over deze businessrun voor het goede doel. AVA kan het geld voor onder andere de accommodatie benutten en een jaarlijks gekozen lokaal goed doel is natuurlijk alleen maar prachtig!" Veertien bedrijven schreven zich dit jaar in voor de GUV businessrun, een 5-kilometerloop. Vanaf het begin doneert AVA '70 een deel van de opbrengst aan een goed doel, stichting Jarige Job en de Voedselbank hebben voorgaande jaren een bedrag gekregen.
Dit jaar viel de keuze op de stichting Joanne Foundation. Frank Roos, PR man en fervent hardloper van AVA'70, vertelt: "We kiezen graag een lokaal goed doel, hierbij hebben we het vertrouwen dat het geld goed wordt besteed. Joanne Foundation is een bekende partij, heel Aalten weet waar Joanne Noordink mee bezig was. Heel Aalten kent het trieste verhaal van Joanne en ook dat haar ouders, samen met Vmbo scholieren en veel vrijwilligers het werk van Joanne voortzetten." Arent Noordink legt uit: "Dit geld gaat naar het project 'Kinderen naar school'. Wij bieden kansarme kinderen, en geloof maar dat daar echt kansarme kinderen leven, de mogelijkheid om naar school te gaan. Niet vrijblijvend maar structureel. Er wordt overigens wel inzet verwacht van de leerlingen!"
Op de cheque staat het bedrag van 700,- euro vermeld. Bert van Asselt van GUV schudt Arent en Helma Noordink de hand en merkt op: "Wij zullen het bedrag naar boven afronden en maken er 1000,- euro van. We vinden het een prachtig initiatief, Joanne Foundation is een goed doel wat lééft in Aalten, ook bij ons!" Helma en Arent Noordink reageerden verrast en erg blij. Helma zegt: "Wat goed, voor dit bedrag kunnen zeker zes kansarme kinderen een jaar naar school!" Er werd een spontaan applaus gegeven, handen geschud en gezoend.
AVA'70 had ook nog een extraatje in petto, een doos vol knalgele AVA hardloopshirts en sportschoenen werden aan Arent en Helma overhandigd. Frank Roos geeft aan: "Er mankeert niets aan de shirts, we hebben alleen een andere hoofdsponsor, daarom gebruiken we deze shirts niet meer. De schoenen krijgen jullie erbij, kijk maar eens of het bruikbaar is!" En weer waren Helma en Arent aangenaam verrast. Helma lacht: "In oktober ga ik weer naar Oeganda, en zeker kunnen deze sportspullen goed gebruikt worden! We moeten maar eens zien hoe we dit alles gaan regelen qua bagage. Het zijn geen zware goederen en het kan klein opgerold worden, ik weet zeker dat de mensen in Oeganda er dolblij mee zijn!" Er werd nog even nagepraat onder het genot van een kopje koffie. "Zeker zullen we foto's maken als we aangekomen zijn. We plaatsen altijd verslagen en foto's op de website over onze projecten", aldus Helma Noordink.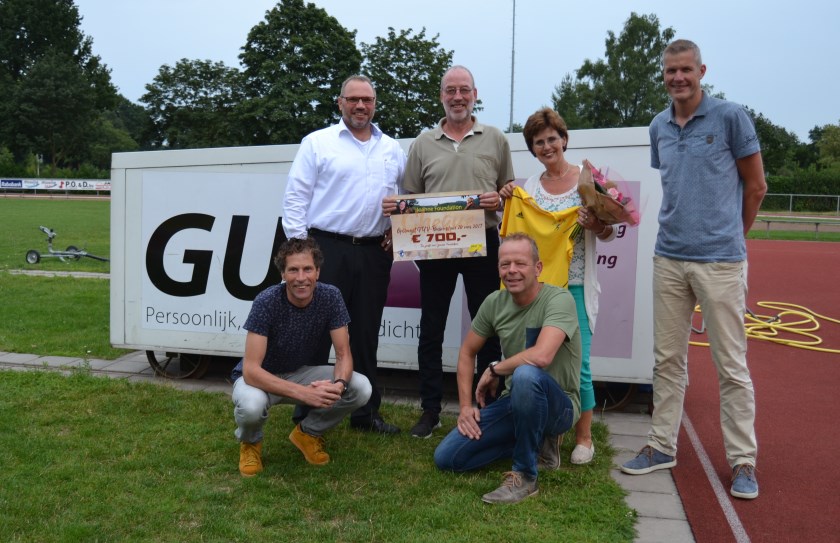 Een weekend vol acties….hardlopen en fietsen.
In het weekend van 20 en 21 mei waren er diverse fundraising activiteiten voor de Joanne Foundation. Zaterdag 20 mei organiseerde AVA'70 de Gerard Tebroke Memorial Run , een geweldig mooi sportief spektakel. De helft van het inschrijfgeld van de Business Run is bestemd voor de Joanne Foundation. De opbrengst van deze actie is nog een verrassing, daar hopen we in juni meer over te horen. Maar het was prachtig om te zien hoe de 14 teams zich tijdens deze 5 km lange run in het zweet liepen voor het goede doel.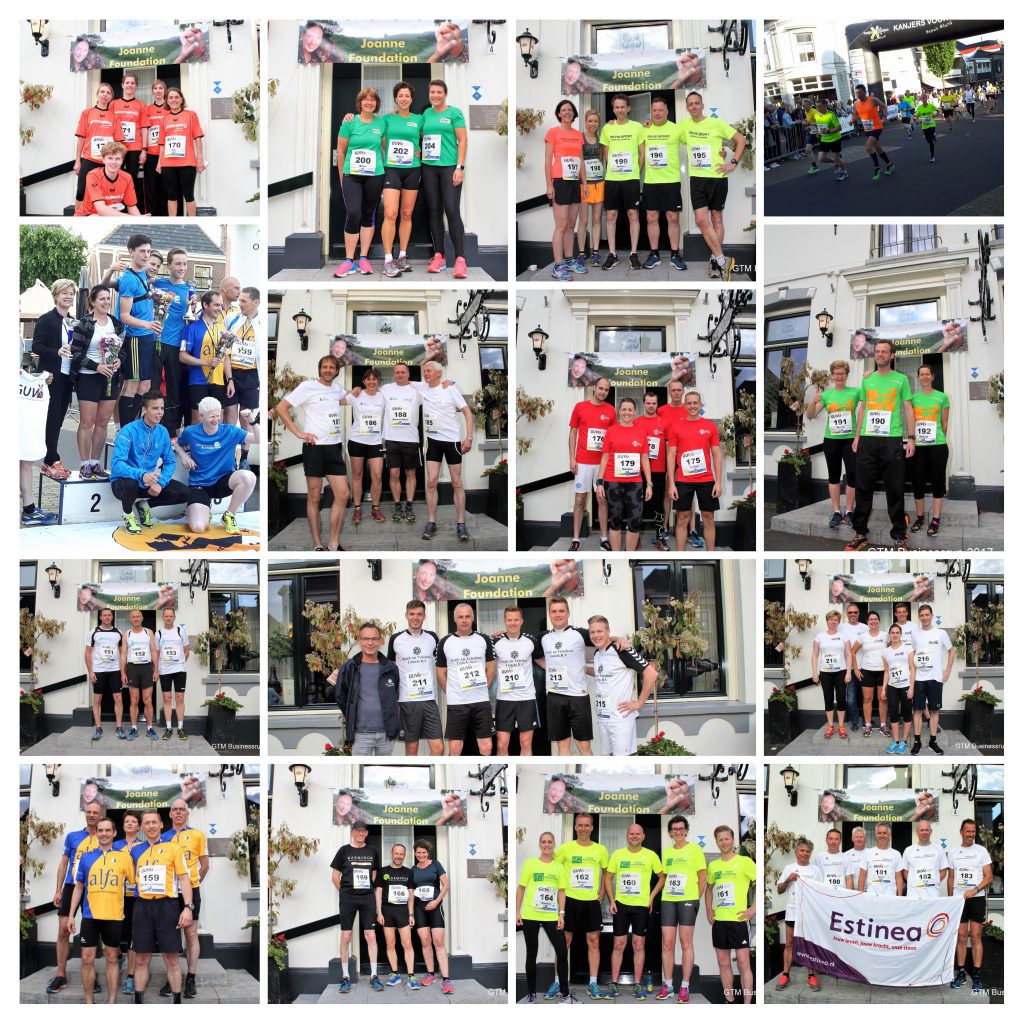 Zondag 21 mei organiseerde de Lionsclub Markelo-Lochem Mixed samen met MarkeLokaal een 'proeven en fietsen' tocht. Het was prachtig fietsweer en de 81 fietsers genoten van de 38 km mooie tocht door de schitterende omgeving van Markelo. Ook de heerlijke hapjes onderweg vielen bij de fietsers in goede smaak. De Lions hebben zich enorm ingespannen om zoveel mogelijk sponsors te vinden en we waren dan ook blij verrast met de geweldige opbrengst van € 2573,25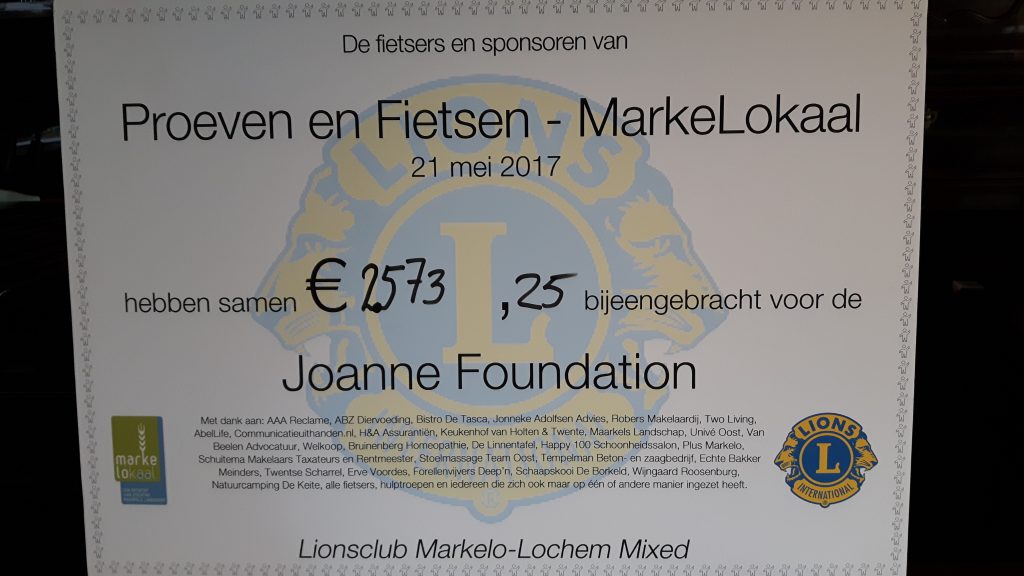 Mooie actie van basisscholen Klimop en 't Warmelinck
Beide scholen hadden besloten om de opbrengst van de gezamenlijke kerstmarkt te bestemmen voor het werk van de Joanne Foundation. Helma is begin december op beide scholen geweest om iets te vertellen over het werk van de Joanne Foundation en de kinderen reageerden heel enthousiast. De kerstmarkt was een overweldigend succes! Er waren kerststukjes en lekkere hapjes gemaakt en de kinderen hadden ook veel mooie dingen gemaakt voor de verkoop. De opbrengst was geweldig:  € 2500!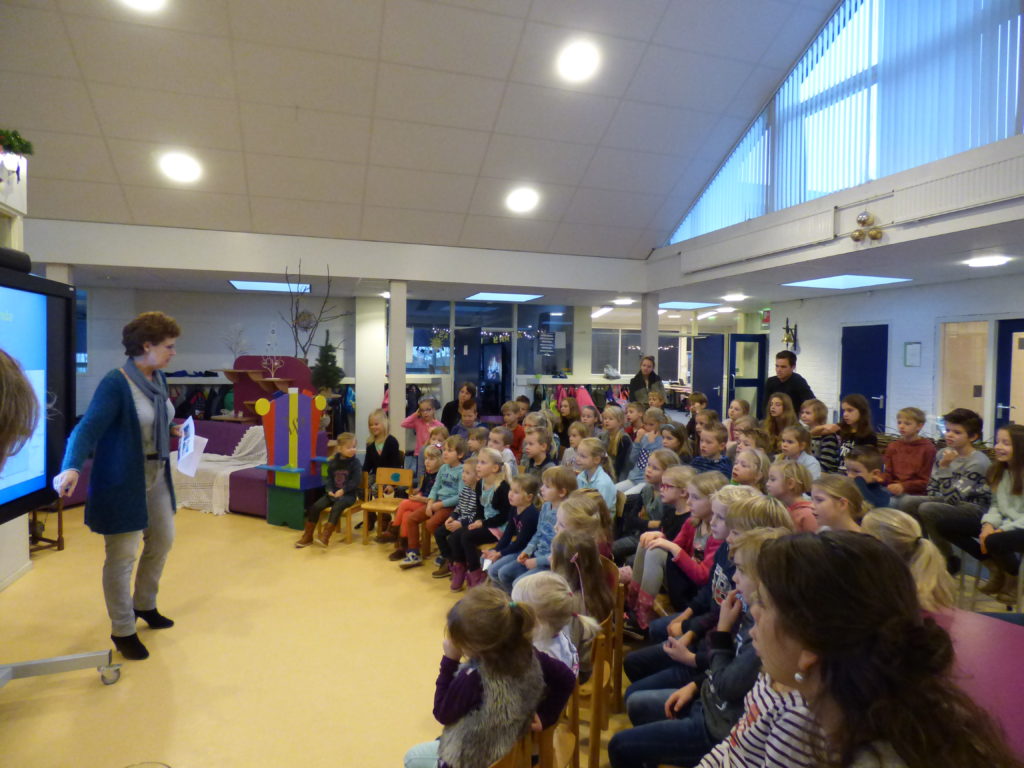 Helma is in februari weer naar beide scholen geweest om te vertellen dat van deze € 2500 een waterpomp geplaatst kon worden en dat hierdoor de bevolking van Ndegeya  nu gelukkig over schoon water kan beschikken. Ook konden er nog twee latrines gebouwd konden worden bij de Little Stars School. Mede hierdoor is het mogelijk geworden de toekomst van deze school en dus het onderwijs voor meer dan 600 kinderen veilig te stellen.
We zijn de kinderen, de ouders en het team van beide scholen erg dankbaar voor hun grote inzet en de geweldige bijdrage!
Speculaasacties vmbo Schaersvoorde
Ook dit jaar was de speculaasactie weer een groot succes. Er waren in oktober al bestellingen binnengekomen van mensen die bang waren dat deze heerlijke speculaas snel op zou zijn. En dat bleek heel verstandig te zijn, want alle pakjes speculaas waren in korte tijd uitverkocht. We willen de leerlingen van Schaersvoorde en bakker Kuipers uit Winterswijk hartelijk bedanken voor hun inzet en voor deze mooie actie!
Kinderspelen Aalten 16 september 2016
Het is inmiddels al een jaarlijks terugkerende traditie in Aalten dat leerlingen van het vmbo Schaervoorde tijdens  het Volksfeest bij de kinderspelen een kraam verzorgen waar snoep, limonade en koffie verkocht wordt en waar kinderen zich kunnen laten schminken. Ook dit jaar was er weer een grote groep leerlingen die hier vol enthousiasme aan meegewerkt hebben. Het snoep was gesponsord door Jumbo en de koffie werd gratis beschikbaar gesteld door de Hofnar. Mede daardoor had deze middag een prachtige opbrengst voor de Joanne Foundation: ruim  € 300!
In Aalten Vooruit stond het volgende artikel: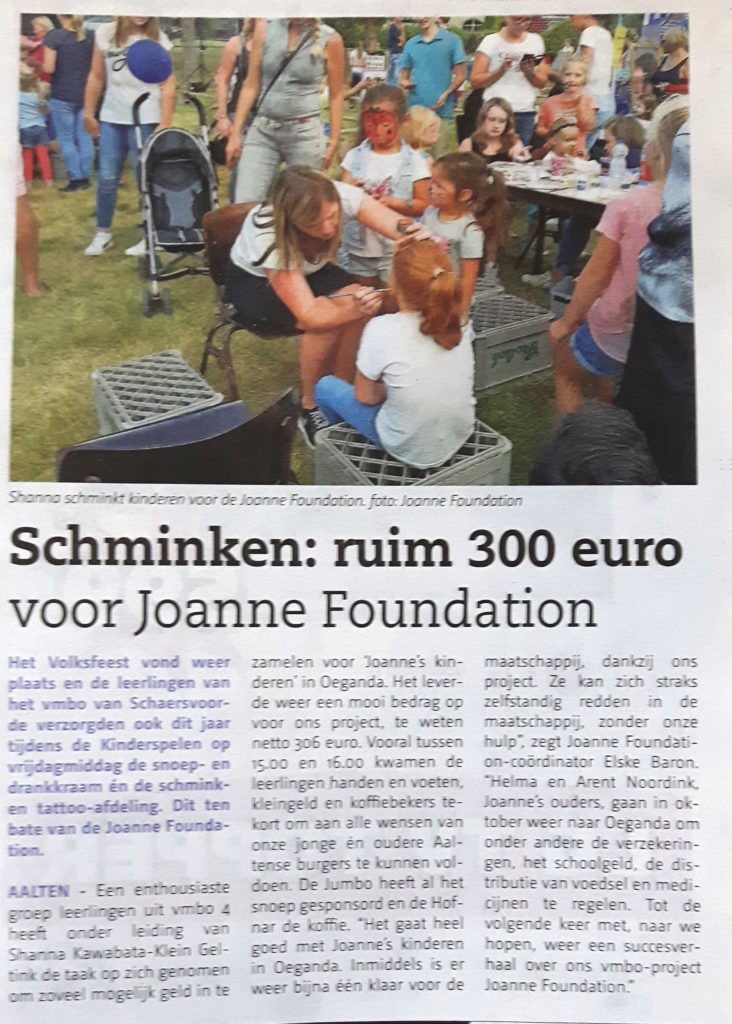 Weldam Castle Fair 10 september 2016
Op uitnodiging van St Mary's Chapel Anglican Church Twente zijn we aanwezig geweest op de Weldam Castle Fair op 10 september om informatie te geven over de activiteiten van de Joanne Foundation.
Het was een prachtige zonnige dag en er zijn zo'n  950 bezoekers geweest. We hebben mooie gesprekken gevoerd met mensen die belangstelling hadden voor het werk van onze stichting.
We zijn blij dat de Anglican Church het werk van onze stichting wil  ondersteunen door een deel van de opbrengst van deze fair te bestemmen  voor de Joanne Foundation.
Een put in de kerk…..  
We zijn blij dat de Protestante Gemeente Bredevoort ons gaat  helpen met het financieren van de bouw van een waterput in Ndegeya.  Op zondag 28 augustus 2016 is er een 'echte' waterput in de kerk geplaatst, die door de kinderen is versierd. Deze put blijft staan tot half november en iedereen kan in deze put zijn giften kwijt.  Een mooie actie!
Twee leuke acties van bedrijven
3 Februari 2016
Boekhandel Messink&Prinsen in Aalten heeft veel schoolspullen en creatieve materialen beschikbaar gesteld voor Joanne's Library. We kregen een grote doos vol schriften, pennen, viltstiften, kleurpotloden, verf, gekleurd papier, schetsboeken enz. Ons bestuurslid Anja vertrekt morgen naar Oeganda, dus kan zij dit mooi meenemen en kunnen de kinderen straks weer fijn creatief bezig zijn.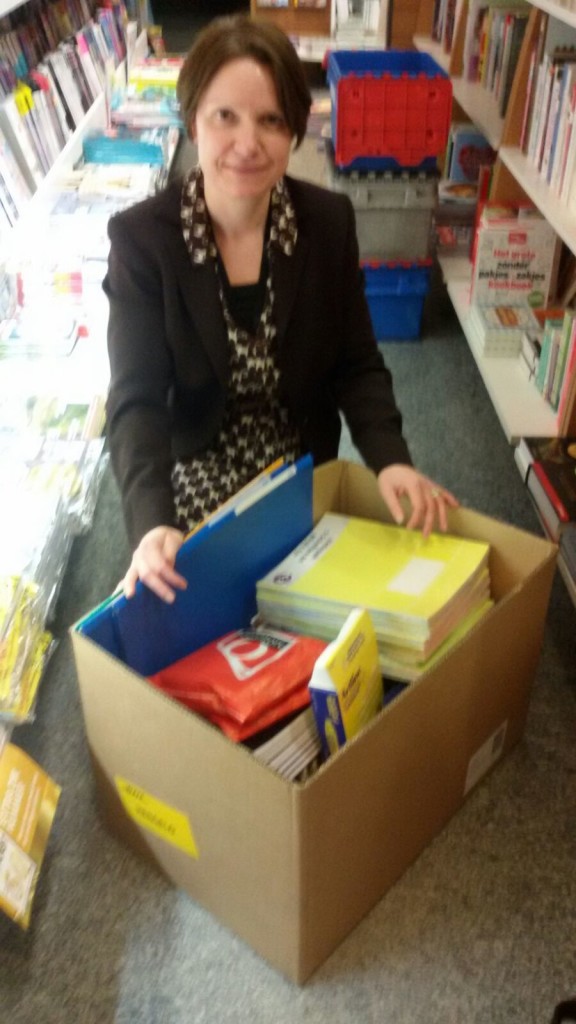 Wanneer je uit eten gaat in een restaurant, bestel je meestal ook een glas of karaf water en je hebt dan de keus: kraanwater of water uit een fles. Restaurants staan dan vaak voor een dilemma: reken ik nu wel wat voor kraanwater, of serveer ik het kraanwater gratis? Hotel Restaurant Stad Munster in Winterswijk heeft een mooie oplossing bedacht: ze brengen een klein bedrag in rekening wanneer er kraanwater bij het eten geserveerd wordt en ze doneren elk kwartaal de opbrengsten hiervan aan een goed doel. Dit kwartaal (januari t/m april) wordt dit aan de Joanne Foundation gedoneerd. We zijn erg blij met dit geweldige initiatief! We hopen dat er veel mensen bij Stad Munster uit eten gaan en een karaf kraanwater bestellen!
Kerstpakketten voor kerstpakketten
De medewerkers van het Ludger College in Doetinchem  hadden dit jaar de keuze of zij een boek wilden uitzoeken als kerstcadeau of dat zij het bedrag wilden schenken aan de Joanne Foundation.
We vinden dit een prachtig initiatief en we zijn dan ook heel erg blij dat veel collega's de waarde van hun kerstpakket geschonken hebben aan de Joanne Foundation.
Op 18 december hebben we een cheque van € 1750 in ontvangst mogen nemen. Geweldig!
Het leek ons een goed idee om een deel van dit bedrag te besteden  aan een extraatje (zeg maar een kerstpakket)  voor  een aantal  Oegandese gezinnen, die op de rand van het bestaansminimum leven.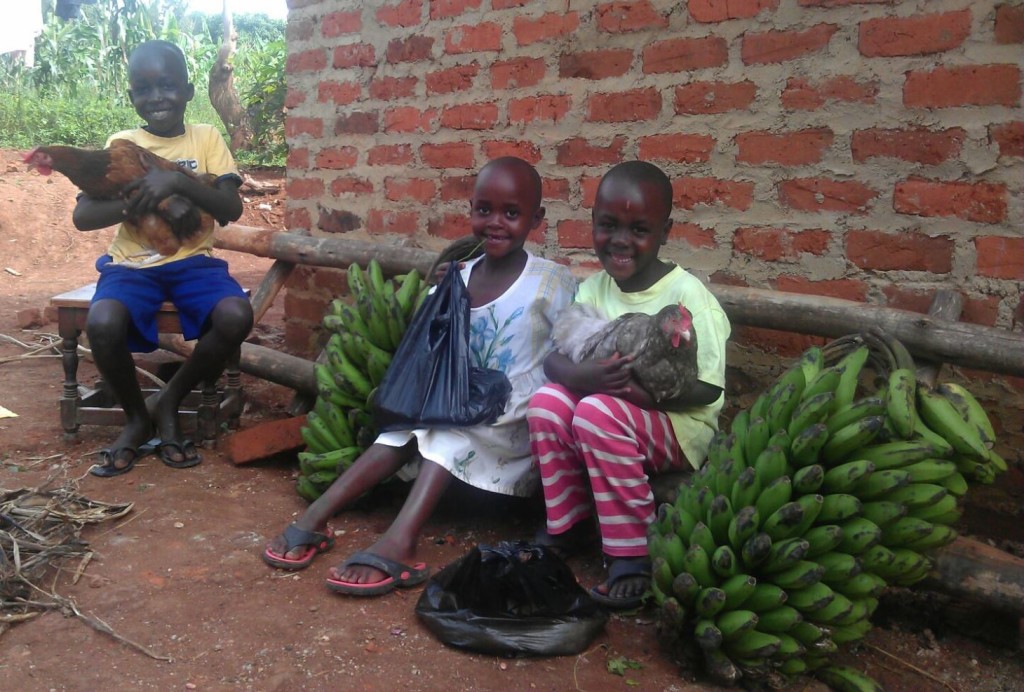 De Nacht van het VMBO- Schaersvoorde
Voor de vierde keer werd de Nacht van het vmbo georganiseerd voor alle vierde klassers van het vmbo op de locatie Stationsplein. In de nacht van 17 op 18 december 2015 waren van elf uur tot zeven uur in de ochtend ongeveer 190 leerlingen bezig in school met verschillende workshops en activiteiten. Deze leerlingen werden gesponsord door familie, vrienden, buren en bekenden, zodat er een mooi bedrag ingezameld kon worden voor de beide doelen:  50 % voor Serious Request en 50 % voor de Little Stars Junior Academy  in Oeganda van de Joanne Foundation.  Het is onze wens om voor de leerlingen van deze school een aantal toiletten aan te laten leggen en goede wasgelegenheid.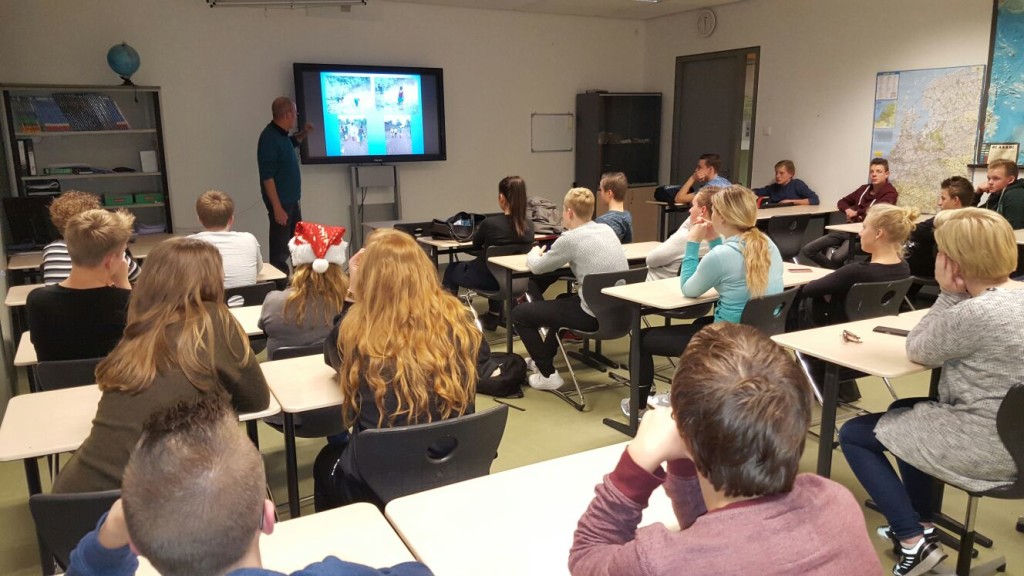 Arent heeft tijdens deze Nacht van het vmbo de leerlingen a.d.h.v.  foto's verteld over de slechte hygiënische omstandigheden op de Little Stars School en hen uitgelegd welke plannen de Joanne Foundation heeft om deze situatie te verbeteren.
We zijn erg onder de indruk van het feit dat de leerlingen het geweldige bedrag van  € 2005 euro hebben opgehaald voor de Little Stars School. Iedereen heel hartelijk dank!
PCOB Oldenzaal
De PCOB afd. Oldenzaal had ons  uitgenodigd om iets te komen vertellen over het werk van de Joanne Foundation. Op 18 november heeft Helma  Noordink de aanwezigen a.d.h.v. foto's en filmpjes verteld over de kinderen, de gezinnen en de scholen die door de Joanne Foundation ondersteund worden. Ook werd er stilgestaan bij de wensen die de stichting heeft, vooral m.b.t. de zorg voor ouderen en kinderen met een beperking. Dankzij giften en de verkoop van Oegandese artikelen heeft deze middag het mooie bedrag van €384 opgebracht. Heel veel dank hiervoor!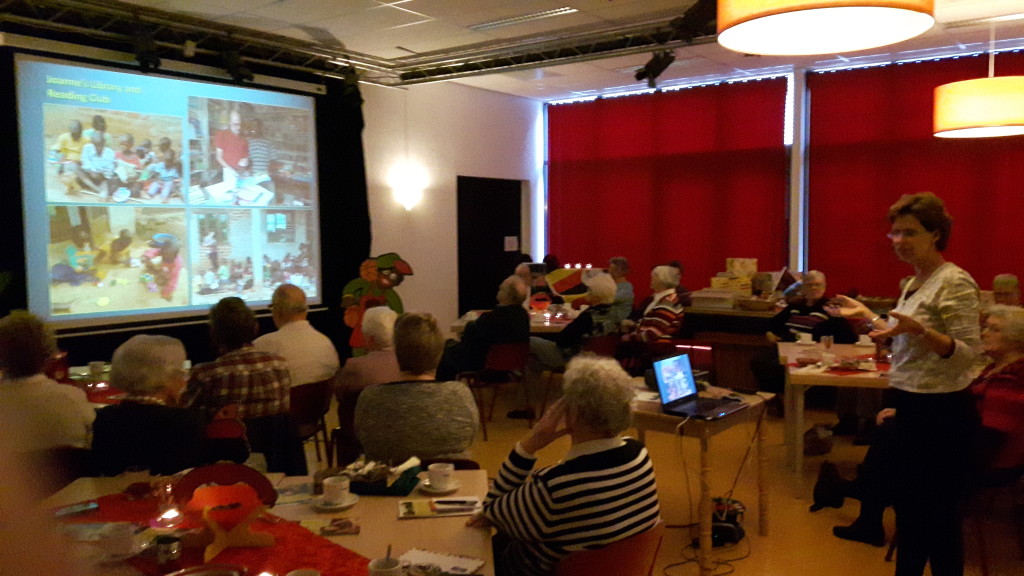 Concert de Joysingers
Op zaterdag 14 november vond er in de Zuiderkerk in Aalten een bijzondere ontmoeting plaats tussen twee koren uit twee landen, te weten The Joysingers uit De Heurne en 150Ps uit Battenberg, Duitsland. Beide koren gaven een prachtig concert, variërend van Gospel tot  ballads.
De toegang was gratis. De collecte kwam geheel ten goede aan de Joanne Foundation.
Namens de Joanne Foundation hield Elske Baron een toespraak, waarin ze het ontstaan en het werk van de Joanne Foundation met name voor de Duitse gasten uiteenzette.
Er werd een enorm bedrag opgehaald: €1040,-
De cheque werd op 25 november door Dick Hobé namens The Joysingers en 150 Ps aan Elske Baron van De Joanne Foundation overhandigd in het kerkje in De Heurne, de oefenruimte van The Joysingers.
Wij zijn dankbaar voor de inzet van The Joysingers en voor dit prachtige bedrag. Op deze manier kan het werk van Joanne in Oeganda voortgezet worden.
Fundraising Event van Brecht
Op zaterdag 14 november organiseerde Brecht (de reisgenoot van Helma in oktober jl) in Markelo een "Fundraising Event" voor de Joanne Foundation. Brecht vertelde enthousiast over haar bezoek aan Oeganda en nam de aanwezigen a.d.h.v. foto's en filmpjes mee op deze reis. Belangeloze medewerking werd deze avond verleend door Bram & Paul en een saxofoonkwartet uit Markelo. Zij verzorgden de muziek, terwijl  "Binnenpret  Catering"  heerlijke hapjes serveerde. Arjen en Jonneke stelden "De Welle" beschikbaar voor deze avond en schonken de glaasjes vol. Ook het kraampje met Oegandese spullen werd die avond druk bezocht.
Aan het eind van de avond konden we vaststellen dat deze avond  €1055 heeft  opgebracht voor de Joanne Foundation.  Een prachtige opbrengst!    Allemaal heel hartelijk bedankt !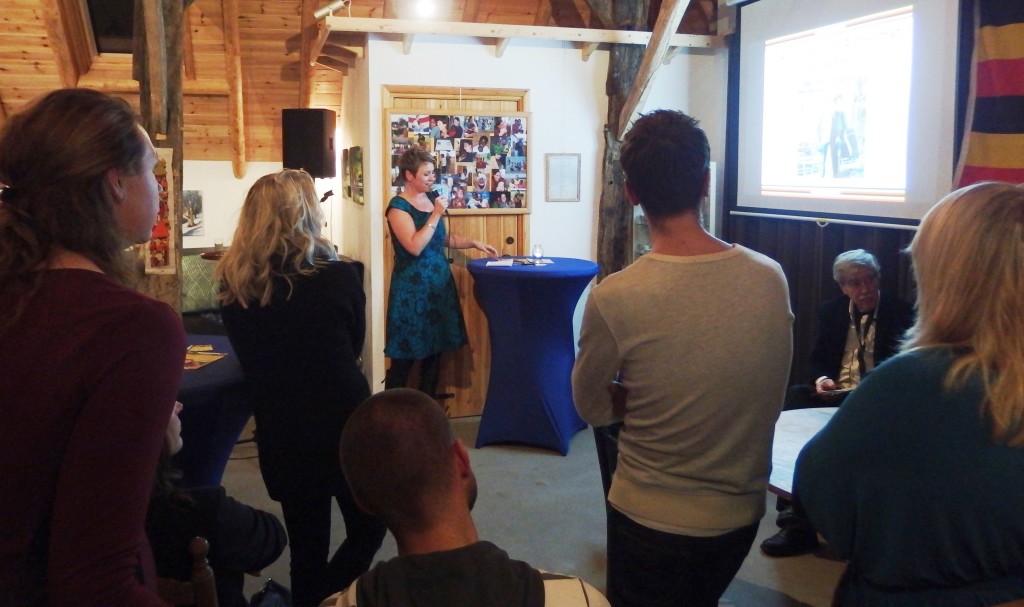 Basisschool De Höve
Op 11 november heeft Anja Lammers namens de Joanne Foundation een presentatie voor alle leerlingen van basisschool De Höve in De Heurne verzorgd. De leerlingen van deze school sparen nu al een aantal maanden voor schoolspullen voor de kinderen in Oeganda. Ze hadden  al € 354 bij elkaar gespaard.  De kinderen in Oeganda moeten veel schoolspullen meebrengen, zoals pennen, schriften, een schooluniform, maar ook moeten ze veel rollen WC papier en geld voor de maaltijden tussen de middag meebrengen. Wanneer de ouders dat niet kunnen betalen, kunnen de kinderen niet naar school. Anja heeft geprobeerd om 'een dag op school in Oeganda' zo levensecht mogelijk voor het voetlicht te brengen. De kinderen luisterden vol aandacht naar het verhaal over het leven van alledag van hun leeftijdgenootjes in dat verre land en ze stelden veel geïnteresseerde vragen na het zien van de filmbeelden over een school in Oeganda.
Op 17 december vierden de leerlingen van De Höve samen met hun ouders, opa's en oma's kerstfeest in de mooi versierde kerk in de Heurne. Ook hier heeft Anja een verhaal verteld over de kinderen in Oeganda. Het was een hele fijne en sfeervolle kerstviering en de collecte, die bestemd was voor de Joanne Foundation heeft € 309 opgebracht. En de meest recente spaaractie van de leerlingen heeft ook zo'n € 300 opgebracht. Wat een prachtig resultaat! Hartelijk dank!
Speculaasactie VMBO-Schaersvoorde Aalten
Op zaterdagochtend 3 oktober 2015 waren Rosalie Setz, Tereza Flachsová en Lika Altink uit VMBO- 3 Schaersvoorde door bakker Kuipers uit Winterswijk uitgenodigd om zo'n 5000 speculaasplakken te gaan bakken onder zijn toezicht.
Bakker Kuipers is bekend van de Achterhoekse Kaneelbeschuitjes, dus het was een hele eer voor de leerlingen.
Bakker Kuipers heeft alle grondstoffen gesponsord. De verkoop van de zakjes speculaas komt ten goede aan het VMBO-project "Joanne Foundation"
Banketbakkerskwaliteit!
De drie leerlingen hebben het prima naar het zin gehad op deze zaterdagochtend. Ze hebben veel verschillende handelingen mogen verrichten, waaronder plakken op de bakplaten leggen, in de oven doen, stapelen van plakken en in zakjes doen.
De leerlingen vonden het een leerzame en leuke ochtend.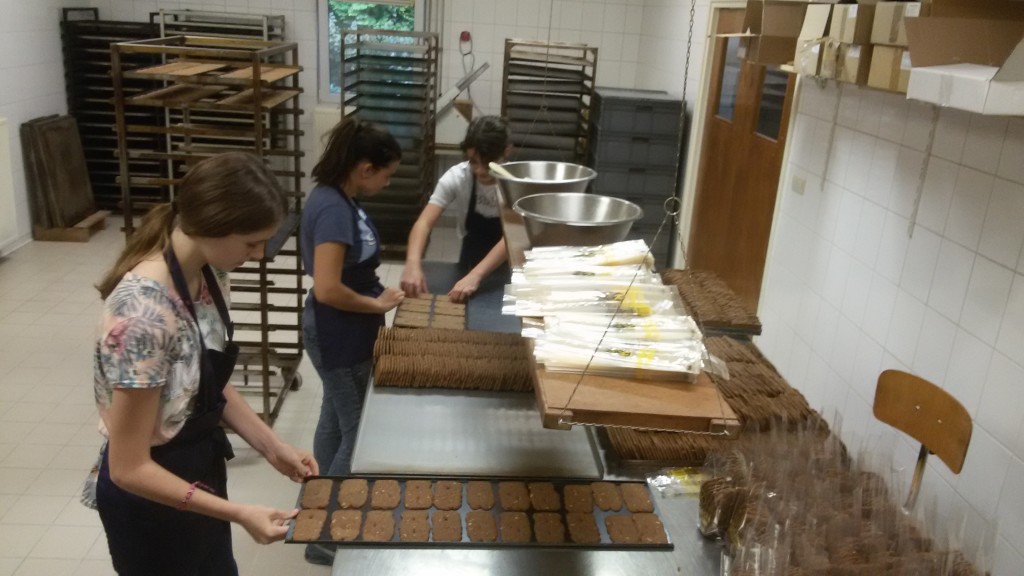 Volksfeest Aalten 2015
Op 18 september heeft in Aalten het Volksfeest plaatsgevonden. Het vmbo-project "Joanne Foundation" verzorgde ook dit jaar tijdens de Kinderspelen op vrijdagmiddag de snoep- en drankkraam én de schmink- en tattoo-afdeling. Een enthousiaste groep van 15 leerlingen uit vmbo-3/4 heeft deze taak op zich genomen. Behalve uren voor de Maatschappelijke Stage leverde het ook een enorm bedrag op voor het project, te weten netto €355,-!! Vooral tussen 15.00 en 16.00 kwamen de leerlingen handen en voeten, kleingeld en koffie tekort om aan alle wensen van de jonge én oudere Aaltense burgers te kunnen voldoen.
Kindermarkt Dijkstraat Aalten
Zaterdag, 4 juli 2015
Enkele scholieren van het vmbo-Schaersvoorde Stationsplein Aalten hebben op zaterdag tijdens tropische temperaturen (38 graden!) de Kindermarkt op de Dijkstraat georganiseerd.
Ze hebben peuters en kleuters geschminkt en "getatoeëerd" en voor een klein bedrag rondgereden in de bolderkar. Ook hebben ze zelfgemaakte producten verkocht.
De opbrengst was heel hoog: €110,-!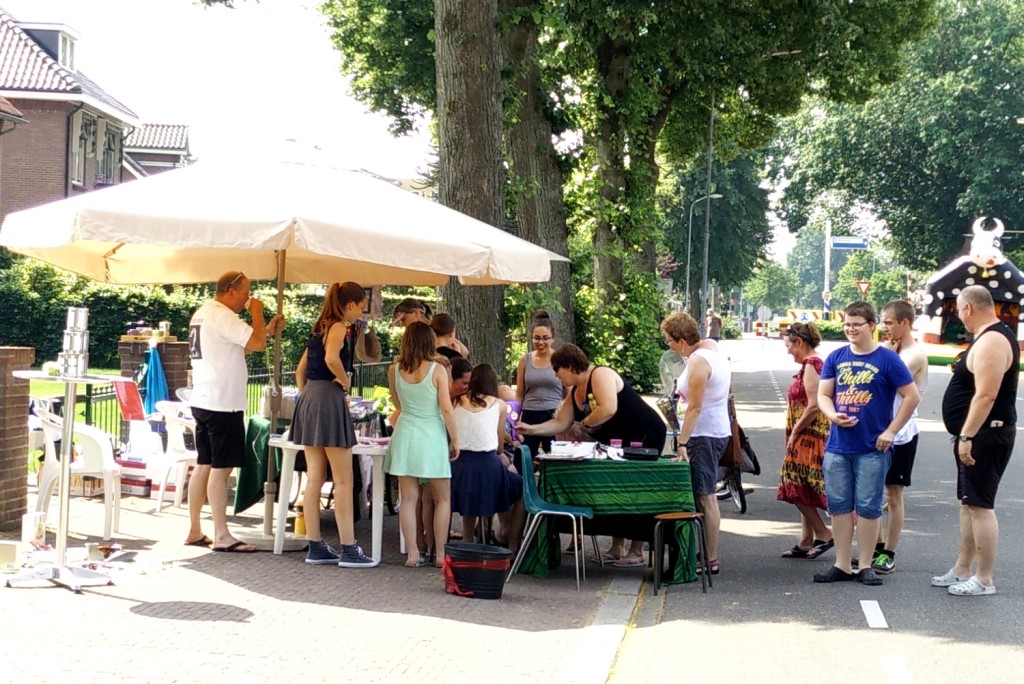 Marktkraam "Joanne Foundation" 2015
In mei en juni 2015 hebben enkele scholieren van het vmbo-Schaersvoorde Stationsplein weer op de Aaltense weekmarkt gestaan met hun kraam vol producten. Dit alles in het teken van de Joanne Foundation.
Vooral de eigengemaakte jam en kaarten werden goed verkocht.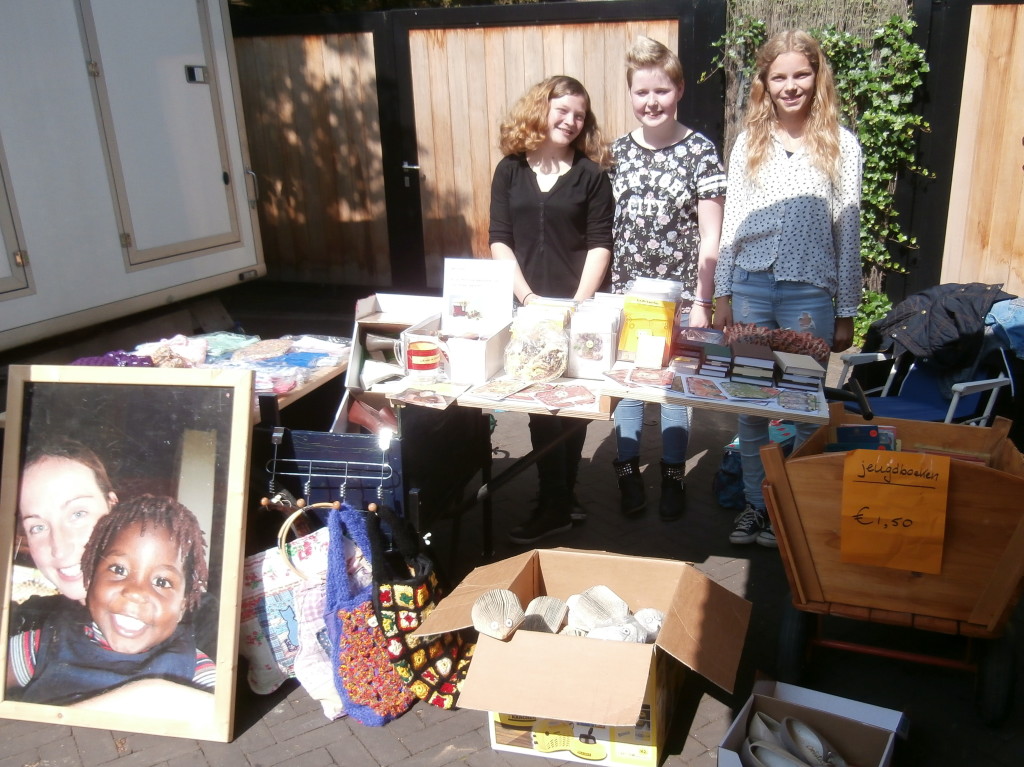 Een prachtig verjaardagscadeau !
Een collega van Anja vierde haar verjaardag met een groots opgezet feest voor al haar vrienden en familie en ze wilde dit jaar eens geen kadootjes voor haar zelf, maar vroeg de feestgangers een gift te geven voor My Book Buddy. My Book Buddy is een leesbevorderingsproject voor kinderen in landen waar het lezen van een kinderboek geen vanzelfsprekende zaak is.
In 2014 profiteerde de Paul Mugwanya School in Masaka  (de school van Hannah en de kinderen van Apollo) van deze leesbevorderingsactiviteit. Dankzij financiële bijdragen van My Book Buddy en de Joanne Foundation, kwam er in iedere klas een boekenkast met kinderboeken. Via een doeltreffend uitleensysteem kunnen alle kinderen iedere week een nieuw boek lenen. De kinderen genieten hier enorm van en er gaat een wereld voor hen open.
Dankzij de bijdragen aan het verjaardagscadeau  van deze collega kon er voor € 400 weer nieuwe boeken gekocht worden.
Paul Mugwanya, de directeur van de school, en Apollo hebben samen de bookshops in Masaka bijna leeggekocht. Zie de blije gezichten van iedereen op de foto's!
Catering tijdens het Krachtveld Festival van het Ludger College
Op  28 en 29 april 2015 organiseerde het Ludger College in Doetinchem het Krachtveld Festival en de opbrengst van de catering was bestemd voor de Joanne Foundation.
Er werden o.a. lekkere Franse crêpes verkocht, chocoladebroodjes, hamburgers, slaatjes, tosti's, oliebollen, heerlijke zelfgebakken koeken en taarten en er werd zelfs een echte Oegandese maaltijd geserveerd. Omdat er veel gesponsord was (o.a. door Jumbo Doetinchem en Aloys Lurvink) kon er een prachtig bedrag overgemaakt worden naar de Joanne Foundation: € 1026
We zijn iedereen die zich hiervoor heeft ingezet heel erg dankbaar!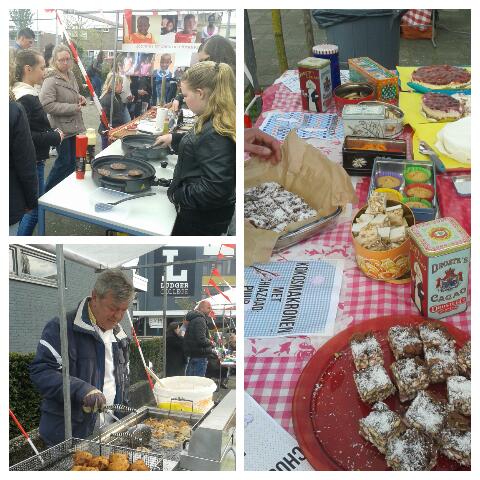 Een spontane actie van de leerlingen van het Ludger College
Vlak voor de kerstvakantie werd er door leerlingen van zes klassen van het Ludger College in Doetinchem spontaan een actie opgezet om geld op te halen voor de Little Stars Junior Academy  in Mateete. Enthousiast geworden door hun docent Dianne Hakvoort, wisten de leerlingen in een korte tijd € 600 op te halen. Een prachtig resultaat! Voor de leerlingen van de Little Stars school konden  we 24 schoolbankjes laten maken.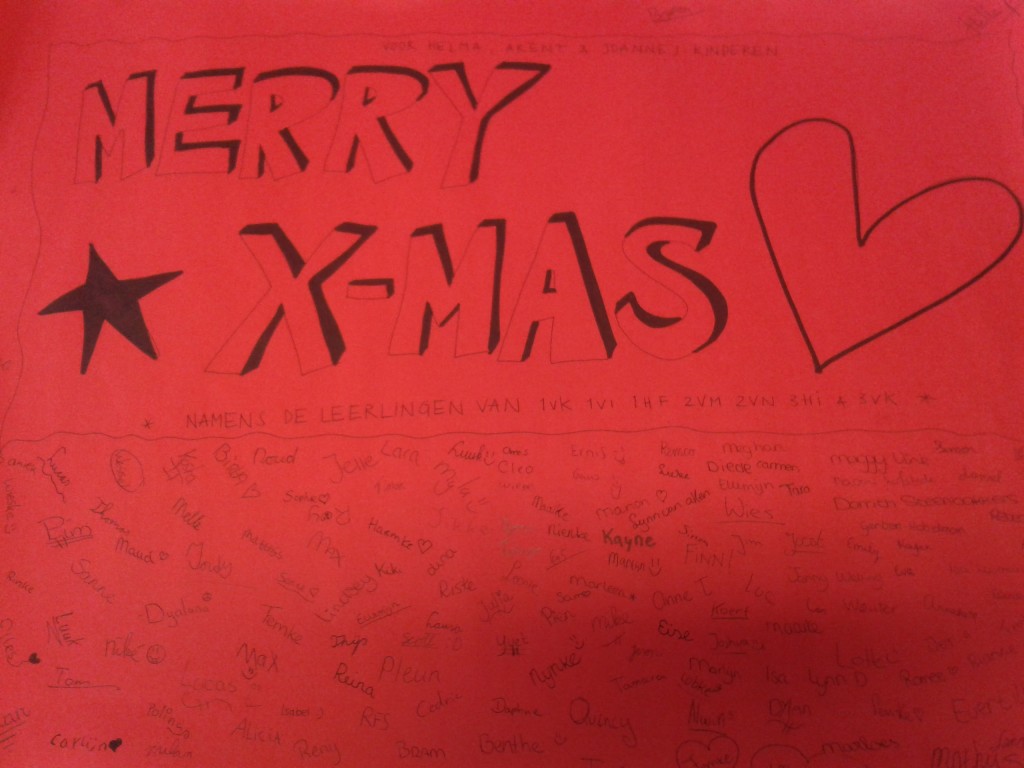 Nacht van het vmbo Schaersvoorde
Voor de derde keer werd de Nacht van het vmbo georganiseerd voor alle vierde klassers van het vmbo op de locatie Stationsplein. Op 18 december waren er van elf uur 's avonds tot zeven uur de volgende ochtend  ruim 175 leerlingen bezig in school met verschillende workshops en activiteiten. Deze leerlingen werden gesponsord door familie, vrienden, buren en bekenden, zodat er een mooi bedrag ingezameld werd voor Serious Request en voor de Little Stars Junior Academy, een project van de Joanne Foundation, die geld aan het inzamelen zijn voor de verbetering en inrichting van een school in het Oegandese Mateete. Beide goede doelen kunnen 50% van de netto opbrengst tegemoet zien. Rond kwart voor zeven in de ochtend werd onder groot gejuich het eindbedrag bekend gemaakt en bleek er € 1353 voor de Little Stars Junior Academy opgehaald te zijn. Een geweldig mooi resultaat!
Herfstmarkt in Lintelo, 
een actie van vmbo Schaersvoorde
Zaterdag 1 november heeft een groep leerlingen van Schaersvoorde met de kraam van 'Joanne's kinderen in Oeganda' gestaan op de Herfstmarkt van Lintelo.
Bijna alle meiden uit Lintelo die op Schaersvoorde in klas 1 tot en met 4 zitten hebben (in het kader van hun maatschappelijke stage) meegeholpen om van de kraamactie een groot succes te maken.
Thirza Pennings, Linsey Selman, Laura Pennings, Rhodé Pennings, Eline Selman en Monique Pennings hebben binnen enkele uren een enorme opbrengst binnengehaald, te weten: €207,-!
Een prachtig resultaat voor een heel goed doel.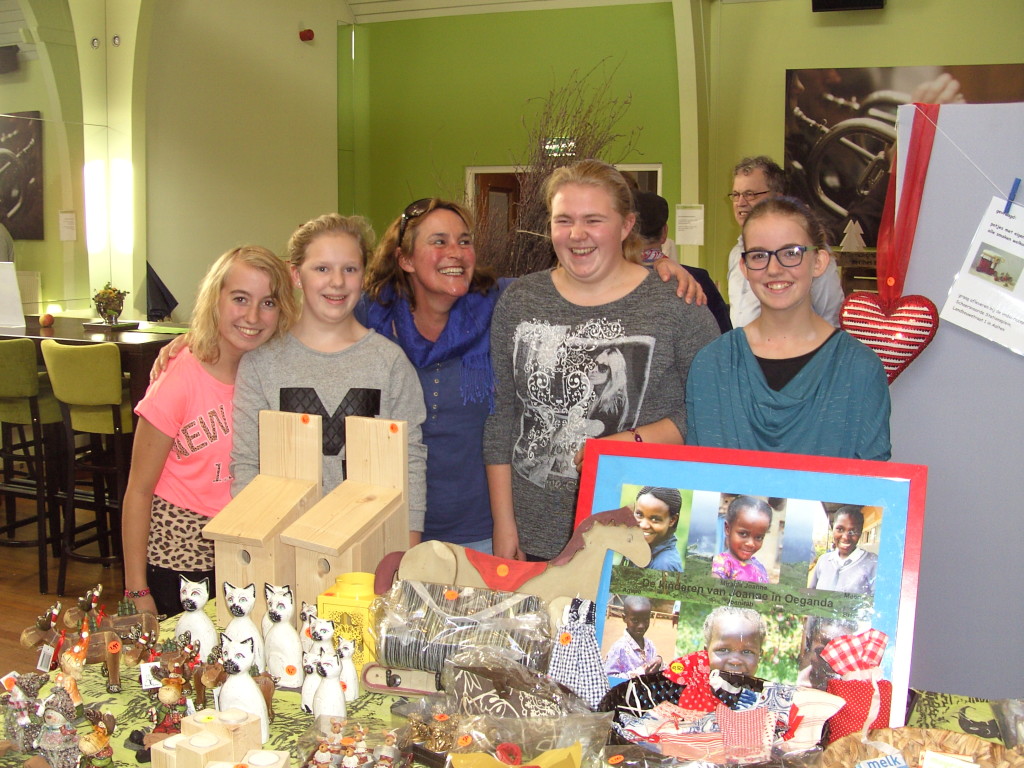 Speculaaspoppen, een actie van vmbo Schaersvoorde en Bakkerij Kuipers
Eind oktober 2014 waren drie leerlingen van het vmbo Schaersvoorde  druk in de weer voor 'Joanne's kinderen in Oeganda'. Marit Helmink en Naomi en Monique Thijssen uit vmbo- 3 waren door bakker Kuipers uit Winterswijk uitgenodigd om zo'n 4000 speculaasplakken te gaan bakken onder zijn toezicht. Deze speculaaspoppen waren in no time uitverkocht  en de opbrengst kwam helemaal ten goede aan 'Joanne's kinderen in Oeganda', omdat bakker Kuipers alle grondstoffen heeft gesponsord.
Een prachtige actie! Marit, Naomi, Monique en bakker Kuipers: hartelijk dank!